The Yin & Yang of Forteza
It's been a crazy busy summer at Forteza, and the fall looks to be even busier, so much so that we have a brand new expansion to FightingFit!, an entirely new *program* and not one, not two, but three new instructors joining the Forteza Family.
Taoism is based on the principle of two opposite, yet complementary energies: Yin & Yang, which comprise everything. Yin energy is soft, feminine, nurturing, while Yang energy is harder, male, more aggressive. What does this really mean? Although they are totally different—opposite—in their individual qualities and nature, they are interdependent. Yin and Yang cannot exist without the other; they are never separate.
What does Ying & Yang have to do with Forteza? We have tried to reflect the idea of complementary training in everything we do, combining traditional martial arts with modern self-defense, old school bootcamps, with innovative training and adventure racing. Although we didn't plan it this way, the new class expansions we are about to show you really reflect this interweaving energies, both in the classes themselves, and the instructors you will meet. But don't take my word for it, see for yourself!
First the Yin…as in Yoga.
We have offered yoga classes and workshops periodically over the years, and while there has always been interest in an on-going class, either there wasn't an instructor available for the times people wanted the classes, students couldn't make the times we offered classes, or in some way things weren't quite the right fit. We're happy to say that we feel that we finally have the right instructor, the right program and the right time!
Yin yoga (or "Recovery yoga") is a slow-paced style of yoga with postures that are held for longer periods of time — for beginners, it may range from 45 seconds to two minutes; more advanced practitioners may build the flexibility and endurance to stay in one posture for five minutes or more.
Yin yoga targets deep connective tissue, applying moderate stress to the body's tendons, fascia, and ligaments along with certain breathing techniques with the aim of increasing circulation in the joints and improving flexibility. A more meditative approach to yoga, yin allows you to gain more clarity and mobility in the body, both physically and mentally, making it the perfect complement to more active, explosive training.
The new Yin Yoga class meets Wednesday mornings at 6 AM. Classes start the week of October 2nd. You can attend as part of your FightingFit! membership, via punchard or by purchasing a month of classes through the website.
About the Instructor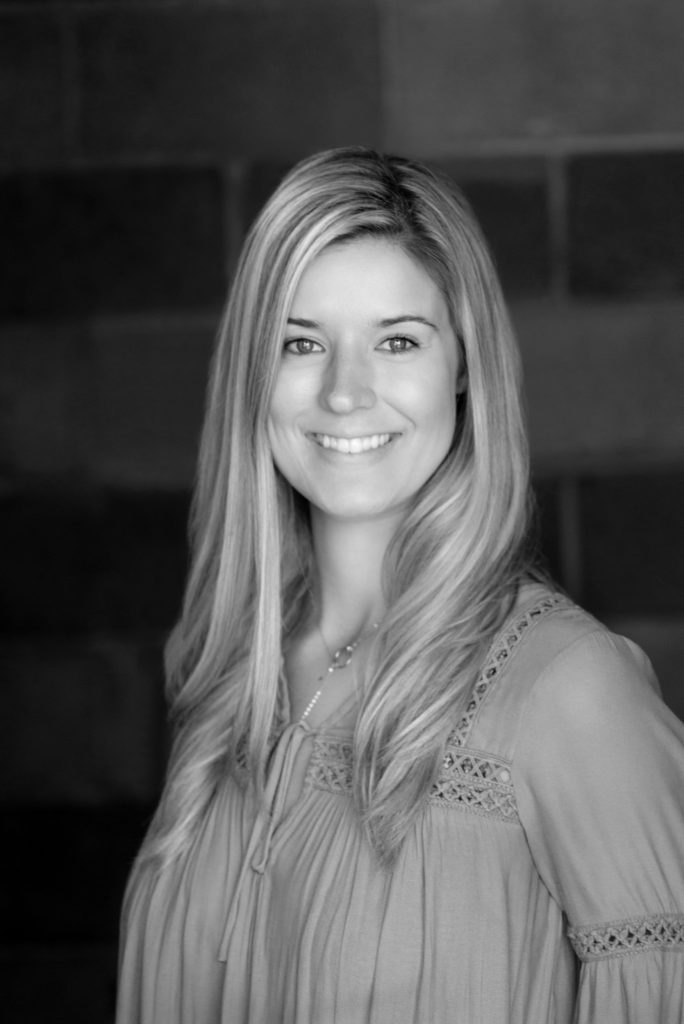 Caitlyn Shaver, LMT/RYT found yoga in 2009 while studying to become a licensed massage therapist at the American Institute of Alternative Medicine (AIAM).During this time period, she found that yoga allowed her mind to re-center from studying, and her body to heal after workouts. The combination of these two practices created a synergy and balance which led Caitlyn, upon completion of her degree from the AIAM, to embark on the journey of becoming a 200 hour yoga instructor. She received her training over nine months in Columbus, Ohio with Janice George at the SamYoga Institute, where she was also the program's student assistant. Certified in multiple types of yoga styles ranging from Yin Yoga to Vinyasa Flow Yoga, she is able to modify poses for each individual student in her class while also catering to advanced practices.
…and then the Yang: Introducing Our New Combatives and Counter Violence
Combatives has been a part of the Forteza course offering since we opened our doors in 2012, with the studio hosting the biggest names in combatives, from Kelly McCann, to Lee Morrison of Urban Combatives and Dom Rasso of Dynamis. But a lot of confusion still remains on how "combatives" and "martial arts differ.
Martial Arts are the formalized training of a set, or subset of armed or unarmed combat skills, in an equal environment. Today, some martial arts are taught for fitness or competitive sports, others as cultural preservation. To survive the test of time, traditional martial arts have to have contained real, practical fighting skills, but they are usually taught in an environment of equals — a duel between warriors — precisely how assaults DO NOT happen on the street. Unfortunately, this means you can spend years developing great skills for sparring in a fair fight or in the ring, and be helpless when sucker-punched by a mugger.
That's where Combatives and Counter Violence come in.
Combatives is about stripping fighting down to its raw essence: simple, gross-motor skills that can be applied quickly and effectively when under attack. It isn't a "system", it's an approach.
Counter Violence is where martial arts, combatives and combat psychology meet: combining the combative mindset with learning how to read a situation, avoid confrontation, anticipate violence, and then, if necessary, quickly and ruthlessly employ your skills so you go home to your loved ones.
Now, in one of the most exciting developments since we opened our doors, we are pleased to announce a completely new Combatives and Counter-Violence program, spear-headed by renowned Chicago-based instructor, Michael VanBeek of Focus Counter Violence, with the able assistance of Forteza's own Jesse Kulla. In addition, after a long hiatus, Martial Blade Combatives (MBC) returns in a short-course format, led by full-licensed instructor Thayne Alexander.
This new program  is module based and divided into an Introduction to Counter-Violence class, a small Master-Class, a Combat Conditioning class to refine your striking skills and improve your physical well-being, and an on-going series of short workshops and training camps. Here's how YOU can be a part of it:
Intro to Focus Counter-Violence (Thurs 7 PM)
Your journey into realistic personal-protection starts here! This 12-week course crushes the stereo-types of martial arts and self defense. You will be introduced to the realities of violence — how to sense its signals, how it initiates, what it takes to respond quickly and effectively, and how to deal with the physical, mental and emotional aspects of this reality.  This course is all inclusive! The physical elite need not attend, and indeed, that isn't the point. Whether by size or number, attackers are looking for the underdog: Learn a direct solution to a complicated problem in a transformation process that turns the underdog into an angry pitbull! (Includes immediate access to Combat-Conditioning.) JOIN NOW!
Focus Counter-Violence Master Class (Thurs 8 PM)
This 12 week course is for the serious! This is the culmination of Martial arts and Combatives smashed into one course. Simulation and emotional content training will be taught through the best drills and skills module there is! If you have any previous training at all you will love this. The perfect blend! Jeet Kune Do injected straight to the streets using the only Counter Violence training Algorithm in existence. Classes are kept to a maximum of ten students, for maximum student-teacher interaction. SEE YOU THERE! (Includes immediate access to Combat-Conditioning.)
FightingFit! Combat Conditioning
(Tues & Thurs 6 PM)
Get into fighting shape with a blend of pad work, kettlebells, body weight exercises, and fighter conditioning. We will get you in fighting shape…..guaranteed. Besides being a robust, complete fighting system, combatives and counter-violence are designed to be practical, efficient and tactical. You'll train your bodies hard, but you'll also hone your minds, learning how to boil empty-hand and weapon tactics down to the critical skills that you really need to survive a violent encounter, while putting a heavy emphasis on skills of tactical awareness, avoidance, and de-escalation.
Special Topics & Seminars
Forteza has also been home to seminars, workshops and monthly gatherings of local, national and international combatives and self-defense experts, covering a wide-variety of topics from metal-preparedness to combat scenario training, stick, knife and improvised weapons use to firearm preparedness and retention. These programs are listed on our Events page, and Facebook and are open to the public.
About the Instructor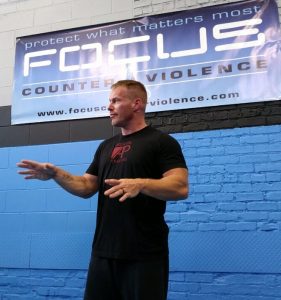 Earning several different rankings in various traditional arts, Michael stumbled upon Jeet Kune Do in the late 1980's. This art, made famous by its founder Bruce Lee, led VanBeek to train with many of the greatest martial artists alive. In the early 1990's he not only maintained a victorious cage fighting record but also trained with firearms and tactical weaponry as a professional body guard, while finishing his education in Criminal Justice. As a security guard in the greater Chicago land area, Michael was exposed to a side of self-defense/fighting not often seen in the martial arts. After a few years modifying the way he taught martial arts, Michael began creating the "Anatomy of Violence", a comprehensive breakdown of the workings of violence from an insiders perspective.With a unified goal and service to educate and train people to save their lives from real violence, without the rituals, uniforms or the time required by most training systems, Focus could now offer "Real Solutions to Real Problems for Real People."
Today, Michael spends most of his time in service working with special needs children, lecturing and presenting seminars on Counter Violence to families, corporations, security firms, organizations and individuals. In addition to running his company, Michael speaks to groups about performance-related matters, using his story to inspire others.
Martial Blade Concepts (MBC) and Big-Knife Training Returns!
The choice on whether or not to carry a weapon is a personal one, but even today, many people carry small knives as utility tools and, if necessary, a means of defense. As such, knowing how to successfully deploy and use a knife, and how to defend against it, is useful skill for anyone interested in practical self-defense. Developed by well-known self-defense personal protection instructor Michael Janich, the MBC Self-Defense System is the result of more than 30 years of training, research, and analysis of the world's most effective fighting arts, emphasizing the development of "all-purpose" defensive skills, and learning how to apply them to literally hundreds of different defensive situations. MBC is a compact, "plug-and-play" curriculum that you an add to any of your other training.
MBC full instructor and life-long martial arts student will be bringing MBC back to Forteza in a series of periodic, thematic short-courses (4 – 6 weeks) as a complement to Focus Counter-Violence, or a stand-alone modern defense system in its own right. Thayne will also be working with us to (finally!) expand our American Heritage/Antagonistics program with short courses in Bowie knife, tomahawk and single-stick. Watch this space for more!
About the Instructor: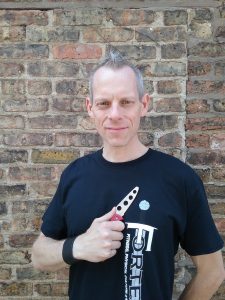 Thayne Alexander has been studying and a practitioner of the martial arts, weapons combat and defense, and the modern combative's world for well over 28 years. Starting with Aikido at age 14, and moving onto and achieving a high rank.   After graduating high school, he became interested in MMA and spent years learning a blend of Muay Thai and Jeet Kune Do.
Thayne found Western arts in 1999, when he began the study of Armizare, and is still active today as a senior Scholar and Instructor of the Chicago and Rocky Mountain Swordplay Guilds.
In 2005 Thayne started Martial Blade Concepts/ Counter Blade Concepts training along with Kali Eskrima Silat and became a MBC Full Instructor under the founder Michael Janich in 2013.
Around the same time of starting MBC. Thayne's love for the old American melee weapon styles got him involved with Bowie knife and Tomahawk weapons and has been teaching the big knife in on-going classes and a few seminars since 2014.
Today, in addition to Armizare and MBC, he is a student of realistic based defense systems, studying under giants in the field such as Lee Morrison and Kelly McCann's, and is a practicing savateur  in the system of Boxe Francaise and street Savate.
Read More »