New Workshop! Hugging the Lion, Slicing the Griffon: Italian Martial Arts from Medieval to Modern (February 20 – 21st)
"Cum li braci vegno acusi ben distese per guadagnar in ogni modo le prese…" "With the arms extended I come to you to gain the grappling in any possible way.." – Fiore De Liberi, Flos Duellatorum, XV century
Forteza Fitness & Marital Arts and the Chicago Swordplay Guild welcome Dr. Marco Quarta of Nova Scrimia for a weekend long immersion in the unarmed combat  taught in Italian fencing and gymnastic academies from the late Middle Ages until the early XX century!
Italian Martial Arts can be divided into Zoghi di Concordia – Games of Concord, or combat sports, and Zoghi d'Ira – Games of Fury or Games of Rage, real combat. Based on ruthless efficiency, Abracar developed from the need of surviving in battlefields, as well as quickly defending in dark streets where people could attack armed with daggers at any time. Compared to its combat-sport counter parts Lotta (wrestling), Pugilato (boxing) or Pancrazio, (also called), Abracar shares the use of strategies and techniques (Zoghi), speed (Celeritas and Presteza) and strength (Fortituto). However it is characterized by less elegant and sophisticated actions, focusing instead on quickly escaping, injuring and ending a fight.
This combative approach didn't disappear at the end of the Middle Ages, but was maintained across the centuries – the XIX century schools of mani libere ("hands") maintain the same principles, and also focused mostly on self-defense (like in the case of Master Luigi Carmine or Alberto Cougnet schools). Today, similar methods are preserved within south of Italy schools, such as "calci & schiaffi" (kicks & slaps).
Part One: From Abrazare to Mani Liberi – Grappling and Hidden Weapons

In this workshops we will cover basic and advanced strategies for the transition from gioco largo to gioco stretto (long to short measure). We will also focus on the flow of grappling toward striking and back to grappling, including:
trovar di braccia (finding and binding the arms).
aprire e chiudere i cancelli (opening and closing the gates), to change measure during actions aimed to finalize an opponent. We will see:
Prese avantacade e Ligadure (trapping and blocking the opponent's arms and legs);
Rotture (breaking joints and weaker bones of the body);
Percussioni (striking with hands, arms, elbows, legs and heads);
Lesioni (injuring with pressure and clinching on soft parts such as eyes, genitals, ears, etc.),
Gambarole, Capofitti and Stramazzi (different actions aimed to throw and take down the opponent on vital parts, such as the head, in combination with striking).
We will also study the actions in the context of hidden weapons. Indeed, Abracar (and the Italian school in general) is an art of unarmed fighting for armed fighters (ex. daggers, knives, sticks, swords). It is designed not only for unarmed combat, but in particular it is aimed to display fencing geometries designed for opening opportunities to grab your own or the opponent's weapon, if available. By doing so, at the same time trying to prevent him to arm himself. Similarly, living traditions in Italy maintain the same concept in the use of the knife.
Part Two: Hands Against the Knife!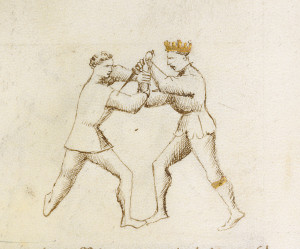 Now that we are armed with a dagger or a knife, the workshop will move into the second part, dedicated to dagger and knife fencing (short range fencing). Translating abracar dynamics into dagger dynamics, we will:
Translate abracar dynamics into dagger dynamics – two weapons, one method!
Learn to flow from gioco largo to gioco stretto with short blades, in transitions of opening and closing the gates.
Study the use of gioco largo to control measure in opposition to gioco stretto aimed to finalize the opponent while neutralizing his weapon.
SEMINAR DETAILS
Date and Time:
Saturday, February 20th (11:30 AM – 5:30 PM)
Sunday, February 21st (11 AM – 5 PM)
Cost: $125.00 prepaid by February 15th, $150 thereafter.
Required Knowledge: None, but experience in unarmed and knife martial arts is helpful
Required Equipment: Comfortable training clothes, long-bladed training dagger, water-bottle, fencing mask. Additional masks and daggers are available at the studio.
Registration is limited to 30 people so register today!