2012: The Year in Martial Arts
From the clash of swords to a unique program for personal protection and self-defense, Forteza's martial arts programs are not quite like anything else you'll find in Chicago. Some of our programs have a long history in the city that precedes the studio's opening by over a decade, while we are pleased to have given others their start.
HISTORICAL SWORDSMANSHIP: THE CHICAGO SWORDPLAY GUILD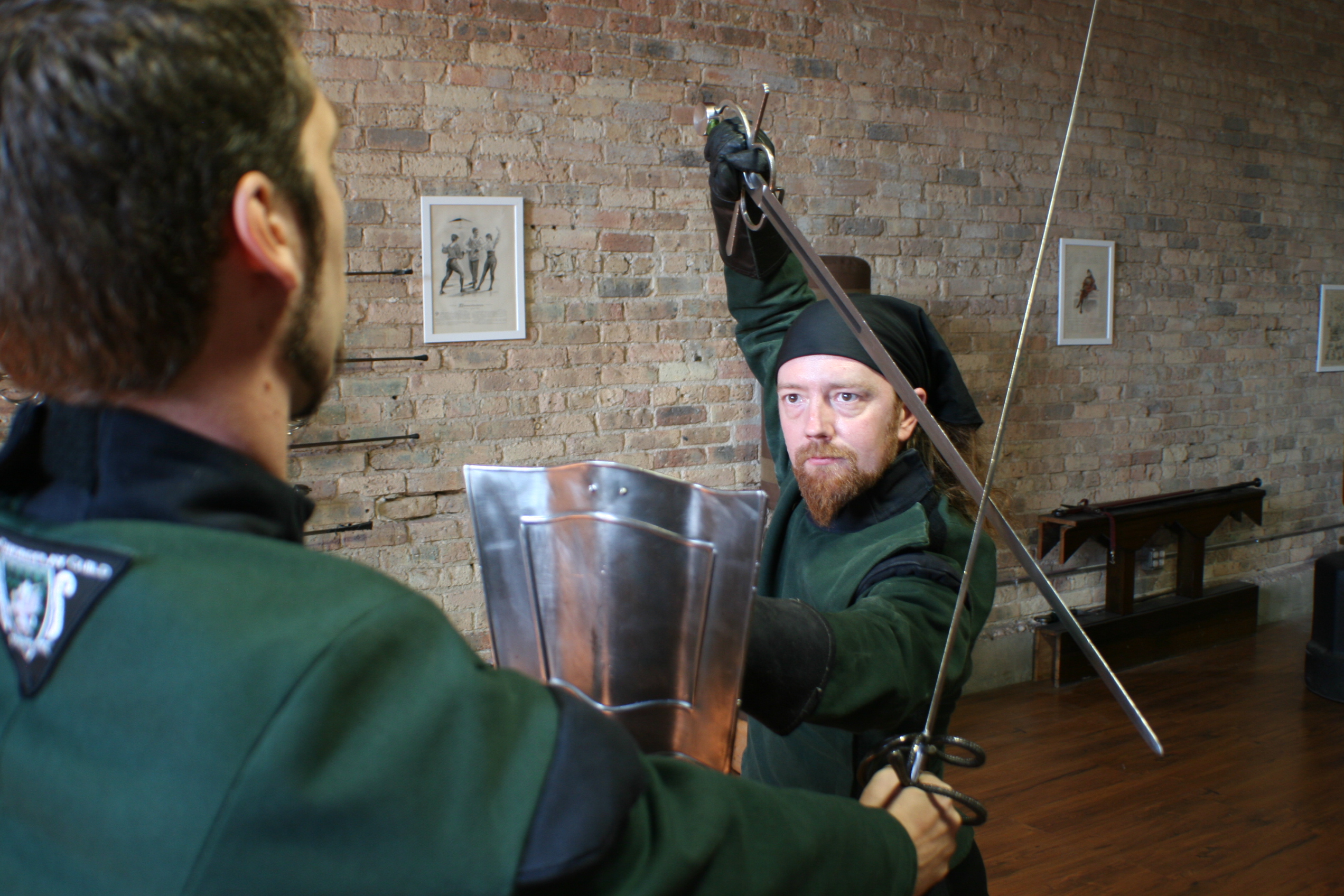 Martial arts training at Forteza began with the Chicago Swordplay Guild, the city's only dedicated school for the study of medieval and Renaissance martial arts. In 2012 our new digs allowed us to greatly expand our class offerings in both Armizare (medieval martial arts) and Renaissance Swordsmanship.
Our Introductory, or "Taster", classes were offered in two separate tracks, a 12-week session on Saturday mornings and a 6-week, twice-weekly session on Monday and Wednesday evenings; both tracks attracted a steady number of new swordplay students. Once the basics were learned, CSG members had a choice of two Novice/Foundation classes per week, firming up basic theory and technique.
Armizare saw a significant spike in new students from a wide variety of backgrounds, age groups, and interests that drew them to the sword.  The influx of new students meant that our Foundations classes have routinely been full and quite lively, as students take the basic lessons of stance, movement, body mechanics and simple attacks and defenses and learn to refine their skills and expand their application. Our expanded schedule also allowed us to introduce a dedicated Abrazare  (close quarter combat) class where students learned basic grappling safety skills, body mechanics, guards, fundamental throws and joint locks, and the nine "Masters" of dagger combat: nine core concepts related to line of attack and type of cover (one or two-handed) upon which the entire, extensive curriculum of nearly 80 formal techniques, and countless variations, can be organized.
Focus classes were organized in bi-or-tri monthly themes, and included "Using Provocations to Break Distance", "Advanced Use of the Twelve Poste", "Using Complex Attacks", "Mechanics of Breaking and Exchanging Thrusts", and "Extrapolation and Improvisation". In the dedicated Scholar's class, students were introduced to two new weapons, the arming (one-handed) sword, and the spear. A number of students successfully completed their basic proficiency exams in the arming sword, and several more will be testing in the spear this February, two necessary steps on the path to the Free Scholar rank.
In the Renaissance Swordsmanship track, our weekly "Focus'" class on specific topics, open to all levels, proved to be most popular; topics covered this year included "Building an Aggressive Defense Using the Guards", "Cuts and Their Counters", and "Pressing the Attack".
With a dedicated 90-minute class of their own on Saturday afternoon, advanced students spent the year focusing on advanced tactics in single rapier, including feints and invitations, and exploring Salvatore Fabris' variations on his basic guards.
On Monday nights we instituted a Bolognese Swordsmanship Study Group. Open to Scholars of either curriculum, Bolognese fencing is the bridge between the late medieval style and the elegant rapier of the 17th century. A vast curriculum containing virtually every weapon of the 16th c arsenal, although Greg has been researching the material for years, this program is in its early stages of being taught as a formal curriculum. Training focused on fencing with the sword alone; looking at not only the basic actions of attack, defense and movement, but the unique pedagogical training tool of the assalti – long solo forms that can then be applied as two-person exercises.
Finally, the highlight of the year for both sub-programs was the spring Prize Playing, featuring an impressive performance by Armizare Novice Erin Fitzgerald, and a commanding display of arms by rapier Novice Robert Rutherfoord and his graduation to Scholar level. Rob is now a rapier instructor-in-training.
THE BARTITSU CLUB OF CHICAGO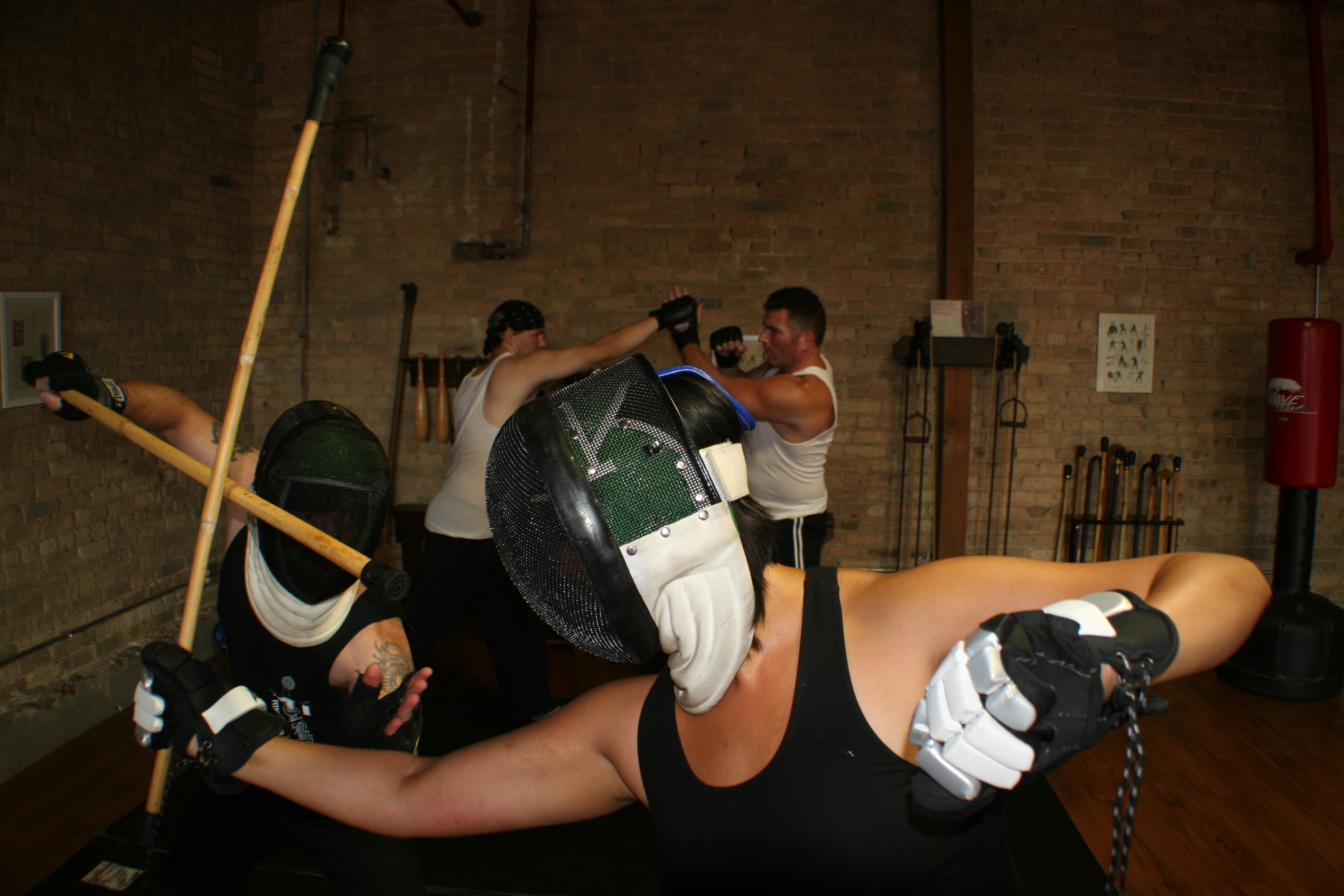 The Bartitsu Club of Chicago is Chicago's first and only martial arts club to focus on the Victorian-era cross-training system of Bartitsu.  The Club began in January 2012 with a successful  one-day introductory seminar that marked the first "public" use of the Forteza studio.  The seminar was followed by a twelve-lesson basic course over six weeks, culminating with an Antagonisticathlon; an event in which participants represent Victorian-era adventurers running a gauntlet of obstacles and surprise attacks by "ruffians".
Graduates of the initial course voted to keep training and so Bartitsu joined the roster of regular weekly classes at Forteza, combining the "canonical" unarmed and cane fighting techniques recorded by E.W. Barton-Wright circa 1900 with "neo-Bartitsu" exercises, combat improvisation drills and progressive sparring.  Over the coming months we were prominently featured in several news media items including articles in New City Magazine and an article and video for the Chicago Tribune.  We held the second Antagonisticathlon during July and the second annual Bartitsu School of Arms event in September (see Special Workshops and Events below).
FORTEZA COMBATIVES METHOD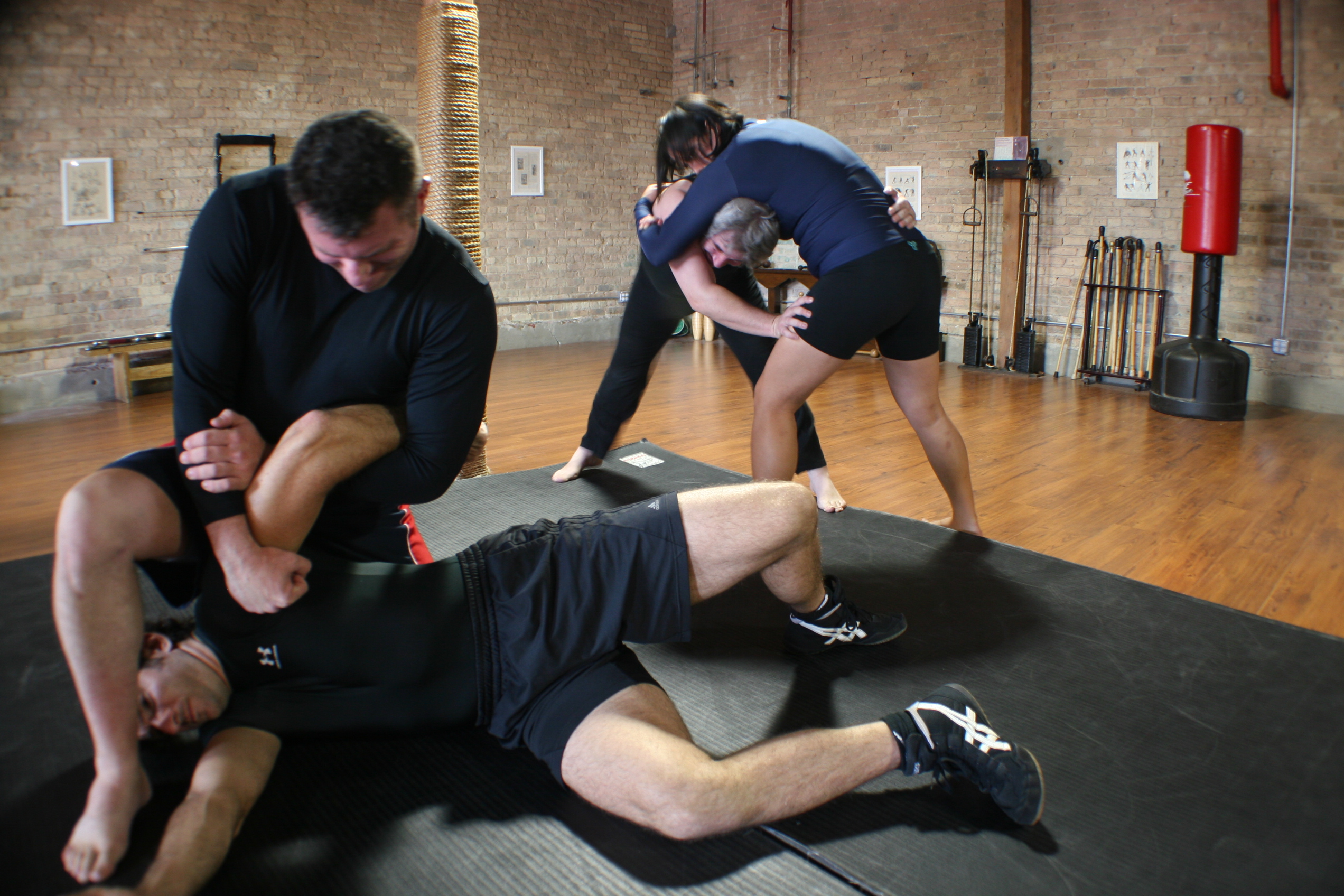 This past year also saw the launch of the Forteza Combatives program.  Forteza instructor and co-owner Keith Jennings is the only fully certified Martial Blade Concepts instructor in IL and the neighboring states.  For years Keith has conducted seminars in Chicago and around the Midwest,  but there has never been an official home for MBC training in Chicago.  The opening of Forteza has changed all that. In the first half of the year, Keith introduced a weekly MBC class, building a small, dedicated cadre of students. But by summer it became clear that students wanted a chance to train more, and to explore other ranges and components of personal protection. Thus was born Forteza Combatives!
The Forteza Combatives Method focusing on the empty hand and counter-knife tactics from MBC, as well as combining elements of bare knuckle boxing, Catch Wrestling/ground survival, and improvised weapons training, making it one of the most well rounded self defense classes in Chicago! The program has been an unqualified success, quickly growing into one of our best-attended martial arts classes – so much so that we'll be adding training days and special events – including a workshop with MBC creator Mike Janich – in 2013.
SPECIAL WORKSHOPS AND EVENTS
In August, Armizare students were given a look at the extensive collection of disarms, pommel strikes and throws that comprise  zogho stretto, or close play, with the sword. Zogho stretto is where the lessons of the sword merge with those of abrazare and dagger, and the entire system is pulled together.
In September, the Bartitsu Club hosted the second annual Bartitsu School of Arms and Physical Culture , a three-day conference and training event.  Highlights included a field trip to the historic Hegeler Carus Mansion in La Salle, IL (with a special guided tour of the mansion's unique Victorian-era gymnasium) and a trip to see the play  Susan Swayne and the Bewildered Bride, which featured Bartitsu-inspired fight scenes.  Then followed two full days of training (including our third Antagonisticathlon) and socializing in the Victorian-themed side room of O'Shaughnessy's Public House.  The event was a resounding success and now we look forward to a Bartitsu New Year.
A little later that month, the Chicago Swordplay Guild hosted Armizare Academy: A Celebration of the Knightly Arts. Originally held in 2010 to celebrate the six hundredth anniversary of the composition of the massive martial arts text The Flower of Battle (il Fior di Battaglia) by the art's founder, Fiore dei Liberi, this event, affectionately called "The 600: Prepare for Fiore!", was such a success with attendees, that we decided to make it a recurring workshop! Since "The 602″ seemed to be missing some flair, the event was been renamed Armizare Academy. This three day retreat featured six instructors from around North America and included both a tournament and a fully-armoured deed of arms!
Finally, in November the studio the privilege of hosting Roberto Laura for an immersion in the world of Italian stick and knife fighting arts. During Roberto's five day visit, we studied three distinct tradtions. The first was La Scuola Cavalieri d`Umiltà or the Knights of Humility. This school derives from Manfredonia, Apulia (by tradition, from the 15th century). It is a highly elegant fighting system with the knife, shepherd's staff and the razor. The second tradition was La Scuola Fiorata– The Flowery School, from Calatabiano, Sicily. The weapons taught within this traditional dueling art are the shepherd stick and the knife.  Fiorata is technically a modern school, yet in many ways it is a return to older sensibilities. The school comes from a very old – and still living – tradition called the Scuola Rutatu (Circling School), but after WWII some masters of the system were concerned with the loss of close-fighting techniques and a transition to fast, but smaller, less powerful actions and developed a new school that would counter Rutatu, producing a system which combines the elements of open and closed guards, dynamic assaults. Finally, Roberto introduced us to la Scuola Cielo e Meraviglia (the School of Heaven and Its Marvels) which also comes from Apulia, and is about two-hundred years old. This is a close-quarter fighting system which uses grips, joint locks, throws. As very old traditions these schools use a wide variety of daggers and folding knives, including cloak and dagger techniques and improvised weapons. Roberto made it clear that he is only a student of this tradition, and that he was introducing us to his current understanding of the system a passed to him by his teacher, Maestro Domenico Mancino.  It was an amazing workshop and Forteza will be introducing a stick and knife study group in the new year to continue to study and train in these priceless pieces of Italian culture!