Coming to the Close: Infighting with the Longsword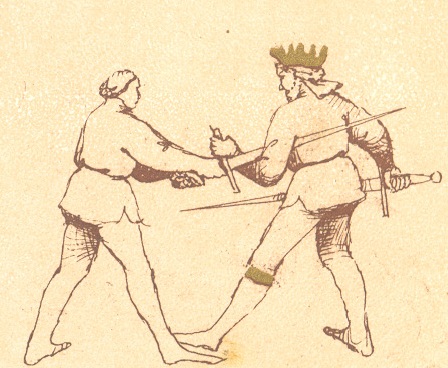 Date: Aug 26
Time: Noon to 3:30
Cost: $30 to CSG Members in good standing, $40 to guests
Disarms, pommel strikes and throws – all of these are part of zogho stretto, or close play, with the sword. Zogho stretto is where the lessons of the sword merge with those of abrazare and dagger, and the entire system is pulled together. It is also one of the most dangerous places to find yourself in a sword fight, since anything you can do to your opponent, he can do to you. In this special workshop, we'll delve into a portion of our advanced curriculum to look at:
the difference between the incrossada (bind) at largo and stretto;
three "bridging plays" Fiore uses to teach how to flow from largo to stretto;
how to voluntarily enter into zogho stretto, when to do it and why;
pommel strike vs. hilt grab – a binary decision or "Dude, where's my point?"
a truly wicked collection of pommel strikes, disarms and arm-locks.
This material is formally part of scholar and free scholar training, but the workshop is open to all current armizare students. Rapier students are also welcome to attend, as many of the same disarms and strikes occur with that weapon as well. However, you must be comfortable with the dagger curriculum and executing cuts, so it is recommended for Renaissance swordsmanship scholars, rather than novices.
Pre-register now by paypal at Gmele@fortezafitness.com